Song of Songs
By April Younglove
<![if !supportEmptyParas]> <![endif]>
<![if !vml]>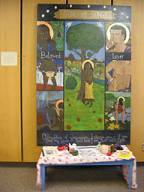 <![endif]>The Old Testament book Song of Songs (or Song of Solomon) opens with the voice of a woman identified only as Beloved.  In the first few verses Beloved instigates a courtship dialogue with her lover, king Solomon, and he answers her back in turn.  The rest of the book continues alternating between the voices of the separated Beloved and Lover.  Beloved is notable as a female character in the Bible for several reasons.  First, it is not often that Biblical women have a strong articulate voice.  The character of Beloved, however, is responsible for over half of the Song of Song's text and her words are given the same weight as those of a king's.  Secondly, Beloved is notable because she speaks freely about her sexual feelings -- feelings not only about her own body but the body of her lover as well, which is interesting when one considers that until recently the sexual experiences and feelings of women in Western culture were often denied or thought of as insignificant.  Finally, because of a verse in the first chapter that describes her as dark, Beloved is notable because she is often interpreted as black (especially here in the United States).
<![if !supportEmptyParas]> <![endif]>
For close-up views of this piece click here.
<![if !supportEmptyParas]> <![endif]>