Lydia
By April Younglove
<![if !supportEmptyParas]> <![endif]>
<![if !vml]>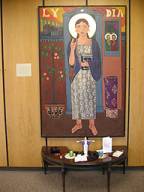 <![endif]>Lydia, a dealer of purple cloth from Rome, was one of the Paul's early converts to Christianity.   Women were among some of the first converts and are mentioned numerous times in the book of Acts as key figures that supported the building of the early church.  These women are described with powerful adjectives such as "prominent" and "God-fearing."  They often opened up their homes for people to pray and worship in.  In Acts chapter 16, Lydia converts, baptizes her entire household, and then invites Paul and some of his companions to stay in her home.  I am specifically impressed with her decisive action and with the level of self-governance that she demonstrates in these verses.  Both Peter and Paul lodge in and endorse various houses of women as places of worship the book of Acts.  Thus I have chosen to place Peter and Paul in Lydia's house.  Lydia is pictured here in front of her home while making the iconographic hand gesture for Jesus' name, indicating that she is a leader in both her spiritual and business community.    
<![if !supportEmptyParas]> <![endif]>
For close-up views of this piece click here.
<![if !supportEmptyParas]> <![endif]>
<![if !supportEmptyParas]> <![endif]>
<![if !supportEmptyParas]> <![endif]>
<![if !supportEmptyParas]> <![endif]>
<![if !supportEmptyParas]> <![endif]>
<![if !supportEmptyParas]> <![endif]>
<![if !supportEmptyParas]> <![endif]>